You decide :
Twelve years ago, John Perkins published his book, Confessions of an Economic Hit Man, and it rapidly rose up The New York Times' best-seller list. In it, Perkins describes his career convincing heads of state to adopt economic policies that impoverished their countries and undermined democratic institutions. These policies helped to enrich tiny, local elite groups while padding the pockets of U.S.-based transnational corporations.
I couldn't help but think about Flint, Michigan, under emergency management as I read The New Confessions of an Economic Hit Man.
Perkins was recruited, he says, by the National Security Agency (NSA), but he worked for a private consulting company. His job as an undertrained, overpaid economist was to generate reports that justified lucrative contracts for U.S. corporations, while plunging vulnerable nations into debt. Countries that didn't cooperate saw the screws tightened on their economies. In Chile, for example, President Richard Nixon famously called on the CIA to "make the economy scream" to undermine the prospects of the democratically elected president, Salvador Allende.
If economic pressure and threats didn't work, Perkins says, the jackals were called to either overthrow or assassinate the noncompliant heads of state. That is, indeed, what happened to Allende, with the backing of the CIA.
"Ten years ago Confessions of an Economic Hit Man exposed the real story. The New Confessions tells the rest of that story – the terrible things that have happened since, and what we all can do to turn a death economy into a life economy."-Yoko Ono
---
The outspoken president of the Philippines has lashed out at the former US ambassador to the country, who reportedly left a 'blueprint to destabilize' the country's government when leaving his post in November.
President Rodrigo Duterte said all ambassadors play a part in their respective countries' spying operations, but American ambassadors have a "forte" for undermining the government of their host countries.
"Most of the ambassadors of the United States, but not all, are not really professional ambassadors. At the same time they are spying, they are connected with the CIA," Duterte said in an interview with CNN Philippines.
Duterte was commenting on a Tuesday report in the Manila Times, which claimed that Philip Goldberg, who resigned in November his position as the US ambassador to the Pacific nation, has left behind a detailed plan on how to undermine the Philippines government and oust its president.
Read more :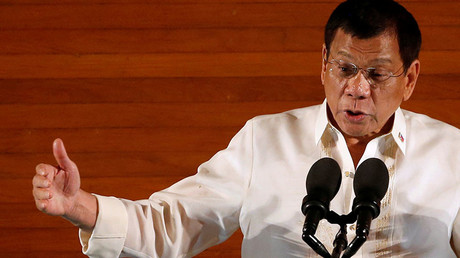 Philippines leader calls US ambassador S.O.B. & gay, Washington demands clarification
Citing a document received from a "highly placed source," the newspaper said that Goldberg's "blueprint to undermine Duterte" included supporting domestic opposition with grants and diplomatic assistance, pressuring other South Asian nations politically and economically to cut ties with the Philippines, and targeting the president's supporters to alienate them.
The US on Thursday denied such a plan existed, but Duterte said this sounded plausible, considering how Goldberg had been expelled as ambassador to Bolivia in 2008. Leftist President Evo Morales accused the American diplomat of siding with his rightist opponents and of orchestrating street protests and gave him 72 hours to leave the country.
Speaking of the alleged destabilization plan, the Philippine president said: "You might be able to oust me, but I will give you a bloody nose."